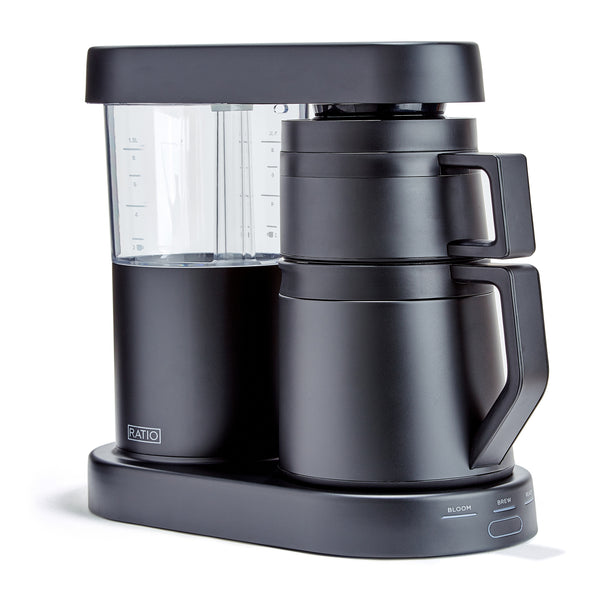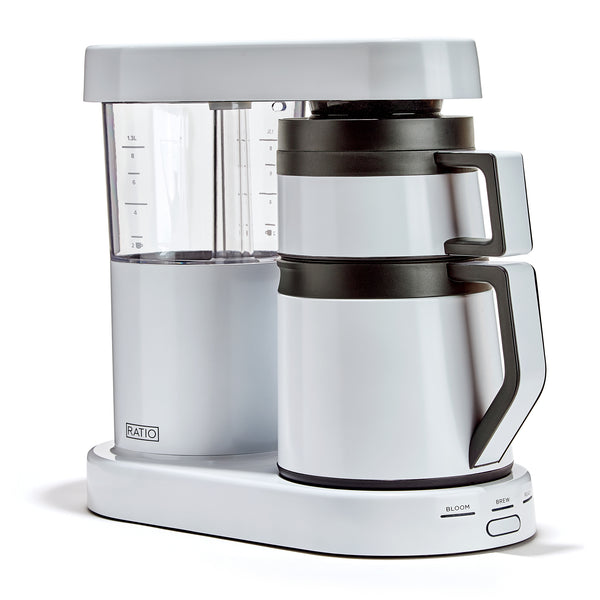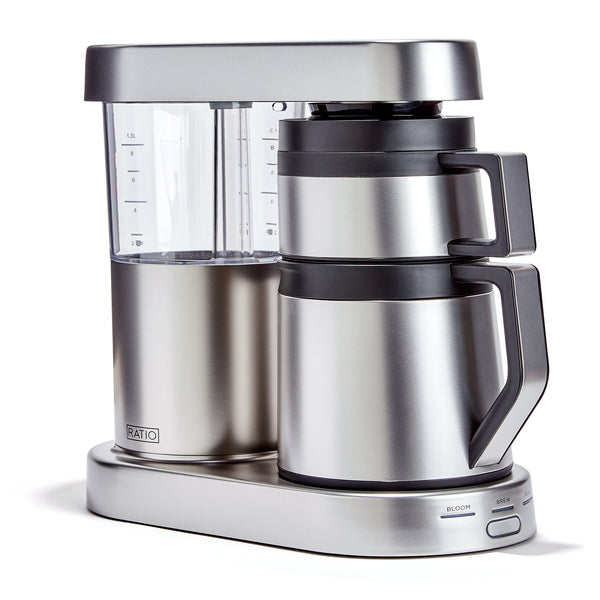 Enjoy free shipping. The Ratio Six simulates a skilled barista pour over process, precisely metering water flow through both the bloom and brew phases. Simplify your coffee routine to the touch of a button. The Six's Bloom, Brew, and Ready phases run in sequence, delivering a perfect - and easy - cup of coffee every time.
Utilizing a die-cast aluminum heating element, water flows evenly through the stainless steel shower head and over the grounds at the ideal extraction temperature.
Designed for today.
And tomorrow. The Ratio Six is designed for longevity with precision-formed stainless steel, borosilicate glass, and high-end BPA-free copolymers. Every inch is built to last and covered by a 5-year warranty.
Modern quality.
The Ratio Six coffee maker is built with thick, precision-stamped stainless steel with a satin stainless steel, white, or matte black finish. It includes handblown borosilicate glass water lines and a BPA-free copolymer water tank. Water markings range from 2 to 8 cups with accuracy to within 1 ounce.
The tank holds 44 ounces of water at the full mark, with roughly 10% of that volume absorbed into the coffee grounds. 44 ounces poured into the water tank should yield about 40 ounces of brewed coffee.
Inside the Box

- Ratio Six Coffee Maker
- Thermal Carafe and Filter Basket
- Lid for Filter Basket with Heat Shield
- Catcher for Filter Basket
- Microfiber Towel
- Paper Filters
- Operation Guide
- Removable Power Cord
| | |
| --- | --- |
| Dimensions | 14.25" H x 6.75" W x 13.5" D |
| Weight | 8 lbs |
| Brewing Capacity | Up to 40 oz (eight 5 oz cups) |
| Customization | 3 colors |
| Body | Formed stainless steel |
| Water Tank | BPA-free polymer |
| Supply Lines | Handblown borosilicate glass |
| Included Carafe | Ratio Six double-wall stainless steel thermal carafe + stainless filter holder with BPA-free liner |
| Filter Type | Flat bottom like Melitta filter 8-12 cup |
| Shower Head | Stainless steel spiral |
| Warranty | 5-year warranty |
| Notes | Please note that this item may ship separately and it is not eligible for any promotional discounts. Due to high demand, returns of this product are subject to a 20% restocking fee. |