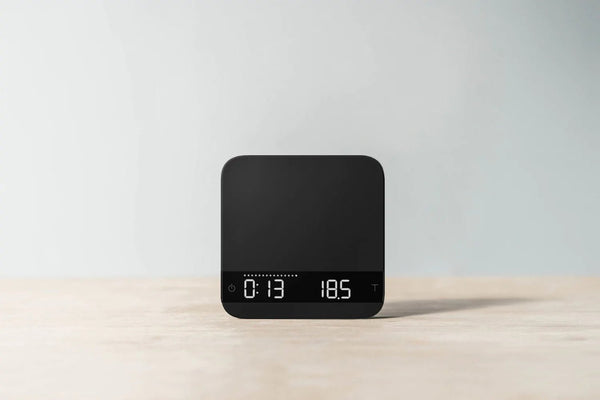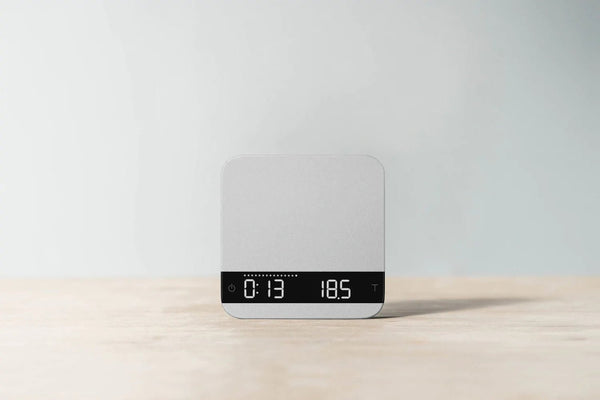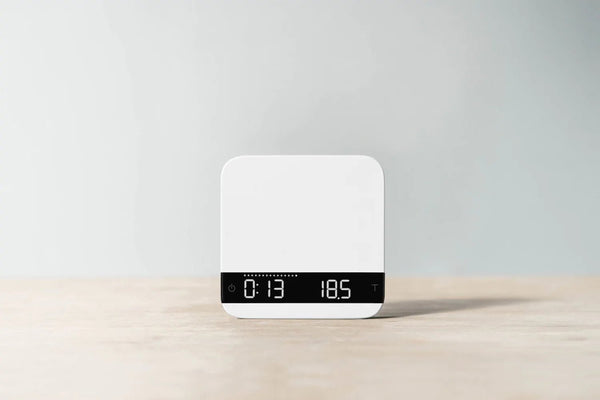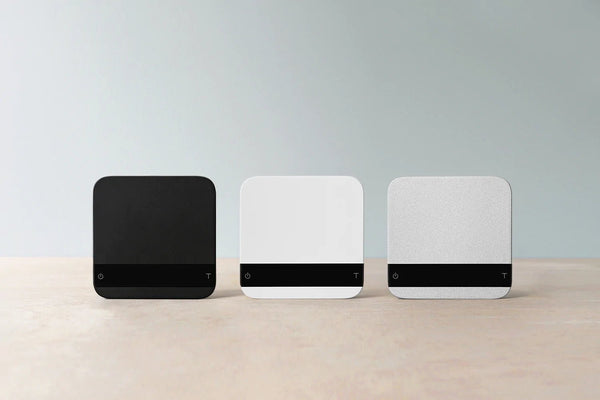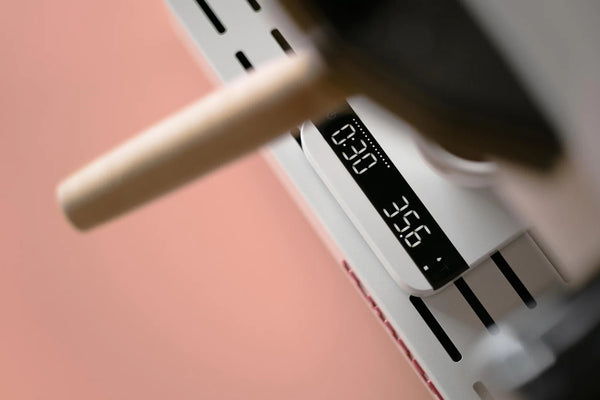 Acaia Lunar Espresso Scale
FREE SHIPPING. Designed for brewing espresso with consistent precision, the reimagined Lunar is fast, responsive, and accurate. This scale ​is built with water-resistant anodized aluminum and Acaia's own leading industrial weighing technology. It is an essential element for any commercial environment and fits perfectly onto espresso machines.

Brew your own way with customizable parameters, a choice of automated brewing modes, and a new Tare Save feature to save the weight of your preferred dosing container. The visual feedback provided by the new Flow-Rate Indicator will also help you monitor your extraction in real time, achieving more consistent shots and allowing you to adjust more accurately for perfect espresso extractions.

Each Lunar scale comes with a heat resistant pad and a 100 g calibration weight. The Lunar includes a 2-year limited manufacturer's warranty, which also covers water damage.

FAST, SENSITIVE, AND RESPONSIVE
With the latest weighing technology, the Lunar stabilizes faster during brewing, saving you precious time and creating a smooth workflow.

REAL-TIME FLOW-RATE INDICATOR
The new Flow-Rate Indicator allows you to monitor the flow rate of your shot in real time. This lets you spot the subtle changes in the extraction, understand your shot better, and make adjustments for a perfect espresso.

CUSTOMIZABLE ESPRESSO WORKFLOW PARAMETERS
Built-in espresso modes will automatically start and stop a timer or tare to speed up your preferred workflow. The new Tare Save function allows you to store the tare weight of your preferred dosing container or cup.

USB TYPE-C RECHARGING
A greener alternative power source, the lithium-ion battery can last up to 30-40 hours. In addition, we have upgraded the charging port to USB Type-C with PD Support, which contributes to longer battery life and protection.

HIGHEST READABILITY UP TO 0.01 G
The Lunar offers a high readability option of 0.01 g, which gives you an extra digit of reference for the most accurate espresso weight.

CARE AND CLEANING
Use a soft cloth with warm water only to clean the product. Do not use detergent or other chemicals for cleaning and soaking as it can damage the anodized coating on the product.
Model

AL008 / AL009 / AL010

Product Weight

265 g ± 5 g

Product Dimensions

W: 105 mm L: 105 mm H: 15 mm

Maximum Capacity

2000 g / 70.55 oz

Minimum Weight

0.1 g

Measuring Units

g / oz

Readability

0.1 g / 0.01 g

Repeatability

0.1 g

Linearity

1 d

Indication Limit

2060 g / 72.66 oz

Power Supply

5 V / 500 mA

Battery

Lithium-ion rechargeable 3.7 V 1100 mAh

Battery Life

30-40 hours

Display

8-digit LED

Material

Aluminum, Acrylic

Surface

Anodized Aluminum Coating
(Black / Silver)

Liquid Coating (White)

Connectivity

Bluetooth 4.0

Warranty

2 Years

Inside the
Package

Acaia Lunar Coffee Scale x 1

Heat Resistant Pad x 1

Non-slip Protective Strip x 2

Friction-reduction Protective Strip x 2

USB Type-C Charger Cable x 1

Acaia Calibration Weight 100 g x 1

Please note that this product may ship separately from other items and that it is not eligible for any promotional discounts.