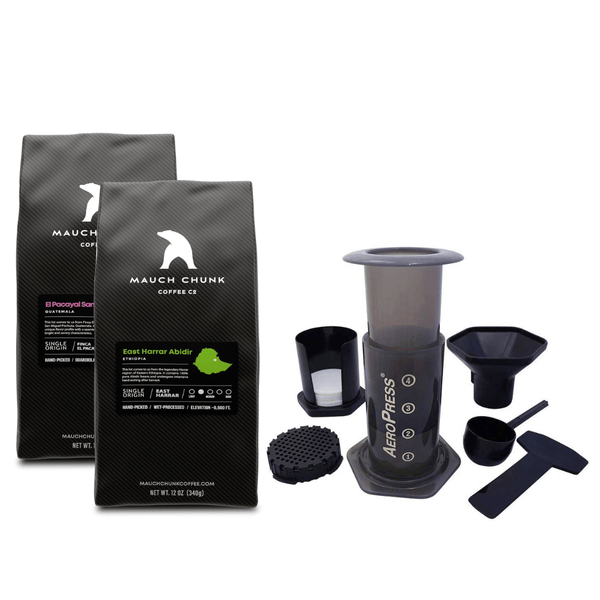 Regular price
$92.00
Sale price
$103.00
Enjoy free shipping!
Send your palette on a journey around the world with our AeroPress Starter Bundle. This bundle includes one AeroPress coffee maker (and all accessories), one 12 oz. bag of our Ethiopian East Harrar Abidir, and one 12 oz. bag of our Guatemalan El Pacayal San Miguel.
Interested in trying one of our other coffees instead? Just enter a note at checkout and let us know! Please note that this bundle is not eligible for any additional promotional discounts.
- Roasted to order in small batches
- Sustainably and ethically sourced
- 100% specialty-grade Arabica coffee
- Includes brewing instructions
- 1% for the Planet Member
AeroPress Coffee Maker
Perfect for use at home or on the go, the AeroPress brews a smooth, clean cup of coffee, or espresso-style coffee, in under two minutes. Despite its simple and unassuming appearance, the AeroPress uses a combination of pressure, total immersion, and microfiltration to produce a uniformly-extracted cup that's free of the grit you'd get with a french press.
Each order includes one AeroPress, a filter holder, a scoop, a stirrer, a funnel, and 350 microfilters.
Easy to clean.
Made in the USA.
Approved by the TSA.
Sturdy enough to withstand virtually anything.
Ethiopian East Harrar Abidir
This lot comes to us from the legendary Harrar region of eastern Ethiopia. What makes this particular Harrar coffee so special is that it consists of 100% pure Abidir beans (most so-called Harrar coffees are blended with lower quality beans). It is also notable for the extremely intensive hand-sorting that it undergoes after harvest. In the cup, look for notes of dark chocolate and mild strawberry, followed by a rich, earthy finish.

Origin:

  Eastern Ethiopia

Variety:

  Ethiopian Abidir

Elevation:

  ~5,500 ft.

Process:

  Natural, Wet Processing / Hand-Picked
Guatemalan El Pacayal San Miguel
This lot comes to us from its namesake farm in San Miguel Pochuta, Guatemala. In terms of flavor profile, this is a very unusual coffee in that it seamlessly combines both bright and savory characteristics. Look for dominant lemon and cocoa notes with hints of nougat and honey on the back end.

Origin:

  San Miguel Pochuta, Guatemala

Variety: 

 

Bourbon, Caturra, & Catuai

Elevation: 

 

3500 - 5200 ft.

Process: 

 

Fully-Washed & Sun/Guardiola Dried